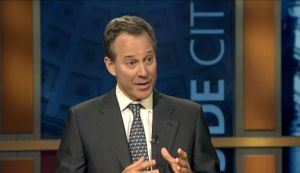 A number of environmental activists are getting together tonight to fundraise for Eric Schneiderman's attorney general effort, according to his campaign.
The event will be headlined by Mark Ruffalo, the star of the film The Kids Are All Right, an upstate resident who endorsed Schneiderman yesterday over the state senator's strong anti-hydrofracking stance. The low-dollar event will be at the home of Elisabeth Benjamin, a vice president of the Community Service Society, and was set-up by Susan Zimet, an Ulster County legislator and prominent hydrofracking opponent. Tickets are going from $100 to $1,000.
Hyrdrofracking is a controversial drilling technique whereby chemicals are released into the rock in order to release natural gas reserves. Proponents, including Dan Donovan, Schneiderman's Republican opponent, argue that the process is safe and want the state to explore drilling in the Marcellus Shale, a geologic region that covers much of upstate New York. Schneiderman and opponents of the plan fear that hydrofracking would damage the state's water supply, and want the state's Department of Environmental Conservation to complete its study before issuing any permits to drill.