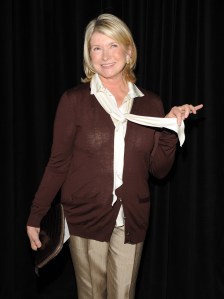 Having made successful forays into a number of diverse industries, lifestyle mogul Martha Stewart seems to now be headed to the storefront. In a onstage interview with Home Shopping Network CEO Mindy Grossman held during the Fashion Institute of Technology's Executive Women in Fashion event, Ms. Stewart said that there is a chance we will one day see freestanding retail locations stocked with her brand's products, WWD reported.
Currently, Ms. Stewart and her Martha Steward Living Omnimedia Inc. oversee her daytime television show, the magazine of which Stewart is the publisher, a home furnishings line, book titles, a wine label, and more. The merchandising arm of Stewart's brand-building empire has 40,000 products in the marketplace.
The conversation also included talk of the iPad app that will launch with the November issue of Martha Stewart Living. The app will feature numerous cookie recipes to coincide with the "Cookie" issue of her magazine, The New York Post reports. It arrives the first of the month, giving iPad fans plenty of time to whip up batches of sweets in time for the holidays — using Martha Stewart kitchenware, of course.