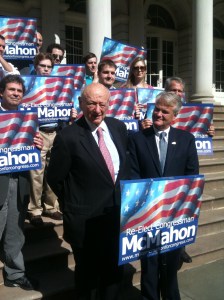 Earlier this month, a letter was sent to Council Speaker Christine Quinn signed by nine members of the New York congressional delegation. Soon afterwards, another letter went out, this time without the name of Congressman Mike McMahon.
Asked about the discrepancy today, McMahon said, "I have never put my signature on that letter."
Although he did not say he was against the paid-sick leave legislation, he came very close.
"Quite frankly at this time, when we are dealing with issues on the national level, which includes creating jobs, I don't think that we should do anything that stops us from creation of jobs. That's issue number one in my campaign and for the country right now and that is certainly an issue for the city council here, but it's not one I've signed onto or endorse," he said.
McMahon is in a tough spot on this issue. On the one hand, he needs the passion of the Democratic base and labor unions to motor his campaign, but he also can't risk alienating the voters in his district–a district that went for John McCain in 2008. Liberals are already unhappy with him for his "No" vote on health care reform. In fact, Quinn, who now must decide on the paid-sick leave bill, backed out of a fundraiser with McMahon after his vote.