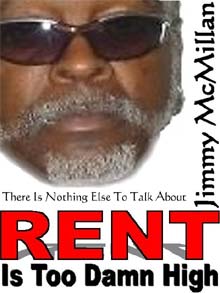 Rent Is To Damn High gubernatorial nominee Jimmy McMillan went on Lawrence O'Donnell's MSNBC show last night with clear (if oft repeated) message: "I am not playing games. The rent is too damn high."
McMillan also took a clear shot at Andrew Cuomo, saying that the "top Democrat doesn't understand the President's agenda," and tells O'Donnell that he gathered all 15,000 signatures needed to get on the ballot by himself.
In other McMillan news, he is crushing both Jerry Brown and Meg Whitman in an L.A. Times California gubernatorial Internet poll, received the endorsement of both Howard Stern and Bat Boy and his Youtube video was ranked the third most viral video by TV Week.
Oh, and the McMillan campaign also announced that he has entered minute fourteen.
Lastly, The Politicker reached out to Newark Valley resident Greg Cornelius, one of the three registered members of the party in the state. A person who answered the phone at his residence said, "The rent is too damn high? Then move out of New York City," and declined to answer further questions.