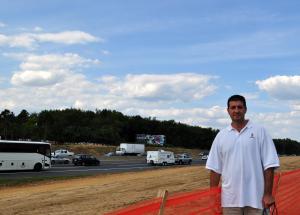 Three Mercer County towns have settled their dispute with the state over turnpike reforestation money that was diverted by the governor to the Department of Environmental Protection budget.
The mayors of Hamilton Township, Robbinsville and East Windsor had filed suit against the state to return the money – nearly $12 million – they said they were due under the state's No Net Loss reforestation program. The money had been meant to replace trees felled for the massive New Jersey Turnpike widening project.
Gov. Chris Christie had originally redirected the funds to the DEP's general budget as the state sought to cut costs.
The agreement directs the New Jersey Turnpike Authority to allocate $3 million this year to tree-planting projects in the three municipalities: $1,316,442 to East Windsor, $1,243,666 to Robbinsville and $439,892 to Hamilton.
In the next two years, the DEP will submit as part of its budget a request for $4,176,300 to be allocated among the three townships. If the money is approved East Windsor would receive $1,832,619, Robbinsville $1,731,307, and Hamilton $612,374.
The settlement restores all of the money due the townships under the program, but spreads the payments over three years. There is no gurantee in the agreement that the legislature will support the budget request by the DEP, but the agreement stipulates it must be included in the budget.
Mayor David Fried of Robbinsville said yesterday the settlement will help his township begin planting trees this year.
"I am very thankful to the Commissioner and the Governor for finding a way to work this out amicably," Fried said. "This settlement will allow us to start planting this year and help some of the residents that have been impacted by the widening."
The mayors – Republicans John Bencivengo of Hamilton and Fried and Democrat Janice Mironov of East Windsor, created a stir last summer when they filed suit against the state to restore the money. Fried and Bencivengo had both been supporters of Christie and some grumbled the two weren't team players.
But all three mayors argued that the loss of the money would harm the townships as they would be forced to pay for tree planting ut of their budgets, already damaged by cuts in state aid.
The lawsuit bought time for the townships to negotiate with the state to replace the money.
Wednesday, one Republican insider marveled at the settlement, saying its the first time in the short history of the Christie Administration that someone had challened the governor openly and won.