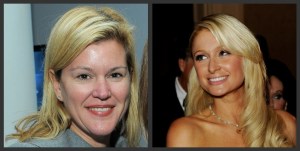 Meredith Whitney, the analyst who became famous for her groundbreaking 2007 call that Citigroup would have to lower its dividend, is, to the best of our knowledge, currently dressed up as Carl's Jr. spokesmodel Paris Hilton.
The New York Times' Eric Dash bravely reports from the second annual Meredith Whitney Advisory Group Halloween costume contest:
"There is a lot of self-imposed pressure," said Ms. Whitney, clad in a purple sequin frock and oversize sunglasses with a stuffed version of Ms. Hilton's Chihuahua, Tinkerbell, in tow. "All costumes must be homemade. No Ricky's."
Ms. Whitney, who once took investors on a "Blond Ambition" tour of the banking industry, decided to dress as the platinum pop culture celebrity on a lark. "Clearly I went on the side of a scary costume," she said. "That's hot."
Other employees' costumes reflect an apparent atmosphere of fun and gentle ribbing over at MWAG. One analyst, apparently a takeout enthusiast, dressed up as an enormous Seamless Web bill. Another dressed as a Christmas tree and plugged herself into an electrical outlet.
Sounds fun!
mtaylor [at] observer.com | @mbrookstaylor