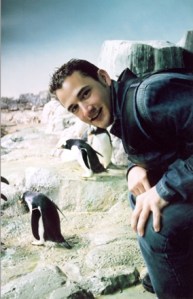 Time Out New York editor-in-chief Michael Freidson is leaving the magazine for a job in London. Mr. Freidson told The Obsever this afternoon that he had not been looking for a new job, but when another company approached him he couldn't turn down the chance to live abroad.
"I'm 34, and I'm married, and I don't have 10 kids to put through Jewish Day school, and when I do I won't be able to move to London," Mr. Freidson said on the phone this afternoon. "My wife and I thought now is the time to do it. I wasn't looking." Mr. Freidson declined to give any details about the new job because of ongoing visa negotiations, but he did say he is staying in the media industry.
Mr. Freidson has been running Time Out New York since he took over for Brian Farnham in 2008. His first job at the magazine was in 1996, a year after the magazine began. He was an intern working on the first Time Out Student Guide.
Under his leadership, Time Out was nominated for a General Excellence ASME in 2009. Mr. Freidson's tenure also saw substantial growth on the web, and he said that it was always important to him to have editors who worked both online and in print.
Mr. Freidson, whose last day is October 15, said that his replacement will likely come from outside of the magazine.
"This is a great place, and I do believe in its future," he said.
zturner@observer.com / @zekeft