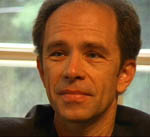 After leaving his longstanding post as Variety film critic last March, Todd McCarthy has accepted a post at The Hollywood Reporter, where he'll factor into editorial director Janice Min's efforts to revamp the paper's staff and content, Media Decoder at The New York Times reported. Since his exit from Variety amid layoffs and cost-cutting, McCarthy has been featuring his writing on Todd McCarthy's Deep Focus, a blog that's part of the IndieWire network.
He called this new offer "very interesting." "The Reporter's making a big splash right now," McCarthy told The Times.
Min joined the trade publication last May after vacating her position as editor of US Weekly. Since relaunching as a weekly, the Reporter has been poaching talent from places such as Variety to contend with that paper's reputation and readership.
nfreeman@observer.com