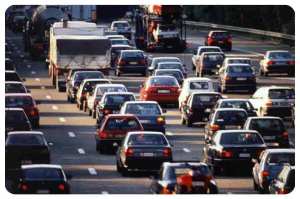 During the prime time hours of 8-10pm, Netflix accounts for 20 percent of all non-mobile internet traffic.
More interesting, that incredibly heavy usage is generated by just 1.8 percent of Netflix's 16.9 million total subscribers.
In other words, the 300,000 people streaming video through their Netflix accounts on a given weeknight account for one-fifth of all broadband internet consumption.
By way of comparison, the season finale of "Mad Men" drew a TV audience of 2.4 million viewers, and network TV draw tens of millions of eyeballs during prime time.
Netflix recently announced that it may begin to offer streaming-only accounts for customers in the U.S.
The company, which made its name on DVD by mail, has had an impressive run of late as it transitions to online streaming.
But a simple back-of-the-envelope calculation shows that Netflix's growth may soon be hampered by available broadband.
Based on current figures, if just 10% of Netflix subscribers were streaming during prime time, it would effectively double the nation's data consumption during those hours.