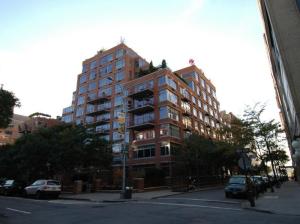 Last night, the Knicks' new star forward Amar'e Stoudemire led his team to a five-point victory over the Toronto Raptors in New York's season opener. How to celebrate? How about with a new $37,500-a-month apartment?
Everybody knows the Post has the best sports coverage in town. Ditto for all-star real estate, as Jennifer Gould Keel got the scoop on Stoudemire's new 4,500-square-foot, five-bedroom apartment in the 1999 condo building at 99 Hope Street.
The tab reported a few weeks ago that Stoudemire had landed at "a sacred location on the West Side," as the former Phoenix Sun put it to Page Six. The Observer assumed this meant a converted synagogue–the baller professes a reverence for Judaism–or, at the very least, a condo at the Chelsea Enclave, the (controversial!) condo project put up by the General Theological Seminary.
Maybe the spirituality comes from the apartment's 4,500-square-foot, wraparound terrace. Plenty of prayer space there.
Neighbors must be praying that is all Stoudemire will be doing. The former tenant, Goldman partner Richard Kimball, Jr., threw frequent parties at his old pad–ditto for his Hamptons home–that led to his lease on the 99 Jane penthouse not being renewed.
Stoudemire is slated to move in in January–presumably on the condition he does not turn up his music past seven after 7 p.m. nor return home with more than two models in tow.