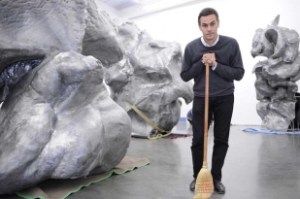 When The Observer profiled him last year, Massimiliano Gioni was described by others in the art world as an extremely ambitious, socially gifted curator who at just 35 years old had risen to prominence in his profession with impressive speed.
The New Museum announced last night that Massimiliano Gioni, who has worked there since early 2006, has been named associate director, a role which will put him at the head of the downtown kunsthalle's curatorial department. As the announcement put it: Gioni will "oversee and direct the institution's exhibition program and lead the curatorial department; assume responsibility for the management of the curatorial staff; and further define programmatic direction as the New Museum continues its growth and evolution."
In assuming his new position, Mr. Gioni, whose curatorial credits include the Younger Than Jesus show, Urs Fischer's Marguerite de Ponty, and the recent Gwangju Biennale, will hold onto his previous title at the museum as director of special exhibitions.
The Observer interviewed Mr. Gioni, almost exactly a year ago, while the Italian-born ball of energy — who moved to New York in 1999 as a 25-year-old — was getting ready for the Urs Fischer show. He told us that he loves art he doesn't understand.
"In a society and a culture in which everything has a message and everything has a meaning and everything has a purpose," he said, "I think we should cherish things that are obscure, that are directionless, that are useless, that are complicated beyond reasonable levels. That's the greatness of art — even in New York, where everything has a price."
He said the emerging generation of young artists are reacting to "10 years of capitalist realism" and "in-you-face work" and has thus adopted "a kind of obscurity and complexity," and taken art "to a new level of madness."
He compared the job of a curator to that of an art critic.
"[Curating] is, I think, a form of optimistic criticism," he said. "You're making things possible instead of saying 'that thing sucks.' …The energy's all in the making, not in the killing."