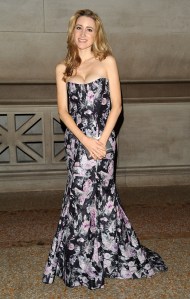 Less than a year after taking over for Nina Garcia as fashion director at Elle, Alexis Bryan Morgan is returning to Condé Nast to work on Brandon Holley's new team at Lucky as executive fashion director.
"She's got a great sense of style and she fits perfectly with the path I'm setting here at Lucky," Ms. Holley told Amy Wicks yesterday.
Ms. Bryan Morgan will bring real fashion cred to Lucky in the position that was created just for her (Ms. Holley has said she wants to ramp up the magazine's fashion coverage). Ms. Bryan Morgan was formerly executive fashion editor at Vanity Fair and she is also the daughter of Anna Wintour's boyfriend Shelby Bryan.
Lucky might not be the place that editors with Ms. Morgan Bryan's resumé usually wind up, but with Ms. Holley in charge the magazine might be a great place to help figure out the next step for fashion editorial on the internet. "There's kind of a ground-up thing with fashion right now that's really fun," Ms. Holley told The Observer in September after Condé Nast announced she would be replacing Kim France.
In other moves at Lucky, fashion director Hope Greenberg has departed and market director Anne Kwon Keane has been moved up to take her place. Ms. Holley has also hired Stephanie Trong, her number two from the Jane years, as deputy editor. Ms. Trong was more recently editorial director for the Gilt Groupe.
Bazaar features editor Laura Morgan will become Lucky's director of special projects, and Ms. Holley also brought on Maura Randall, who worked with her at Shine, Yahoo's site for women, to run Lucky's website.