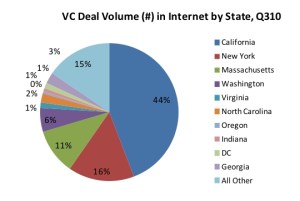 New research from CB Insights shows that while Silicon Valley is still the biggest player in new tech funding, it share of the market has fallen by 7% since last year.
More importantly, as Nick Saint notes, New York — which has traditionally been viewed as a little brother to Boston on the tech scene — is now #2 in terms of new startups, while Beantown is a distant fourth.
The $5.4 billion in funding recorded in Q3 2010 is a drop from last quarter and a well below the $6.1 billion from this time last year.
But New York is benefiting from an explosion in early stage seed funding, which has grown tenfold since this time last year.
The small, agile, web-based firms that can afford to operate in the Big Apple's pricey real estate market are taking home a much bigger chunk of overall VC funds.
Add in the fact that advertising, one of New York's strong suits, is the best funded sector in tech and the report is an strong endorsement of Silicon Alley's future.
Follow me @benpopper
Related Stories
Startups Rejoice – Charlie O'Donnell Has a Fresh $126 million to Invest
Why Silicon Alley is more Efficient than the Valley