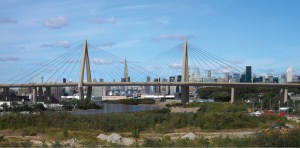 Ever since the collapse of the I-35 bridge in Minneapolis, cities across the country have been warily reevaluating their roadway infrastructure. In New York, some of our bridges earned failing grades. The Brooklyn Bridge was among them and is currently being repaired. Others are in better shape, but not by much. Among them is the Kosciuzko Bridge, which carries the Brooklyn Queens Expressway over Newtown Creek from one borough to the other.
Last week, the state Department of Transportation announced it had selected a new bridge to replace the old Kosciuzko. The steel truss span is one of the steepest bridges in the city and carries 160,000 drivers per day. Last fall, the state unveiled three designs for the new bridge, including standard concrete deck arch and through arch proposals as well as a more modern cable-stayed model.
As a sign of New Yorkers' growing design savvy, the latter won out, with almost half the public voting for it. Construction is expected to begin on the new $1 billion bridge later this year, with a completion date set for 2017.