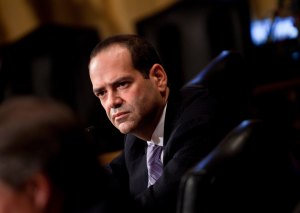 The first-ever guilty plea to theft charges related to the Troubled Asset Relief Program is in. Reuters reports that Ex-Park Avenue Bank president Charles Antonucci today said he had taken $6.5 million from his employer and invested it for himself.
According to prosecutors, Antonucci also lied in his bank's application for $11.2 million in TARP funds. "For these acts, I offer no excuse. I know what I was doing is wrong and I apologize to those I hurt financially," he said.
When Antonucci was charged in March (he also has the honor of being the first person charged with TARP fraud), authorities said that he approved millions of dollars in overdrafts from his bank by his co-conspirator. As quid pro quo, Antonucci's partner allegedly let him take trips — including one to the Super Bowl — in a private jet.
mtaylor@observer.com
Twitter: @mbrookstaylor