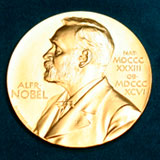 Get your bets in, literary gamblers: the Swedish Academy has settled on a winner for the 2010 Nobel Prize in Literature, according to the AP. The Academy will be announcing the recipients of the other Nobel categories starting on Monday, but it will deprive us of the winner in literature until the award ceremony next Friday. Sorry for the cliffhanger, guys.
After informing the AP that the 16 members of the academy had reached a decision, permanent secretary Peter Englund addressed the much-alleged "pro-Europe" agenda that has prevented an American from winning the lit prize since Toni Morrison captured it in 1993. Englund denied that there's any agenda, but admitted that the panelists may succumb to "subconscious bias," as all of them are European. "That is a problem," he said. "But we are aware of it."
This year, Philip Roth and Joyce Carol Oates are among the American writers poised to end the drought. But bear in mind that history is against the U.S. in this respect, and bet accordingly.