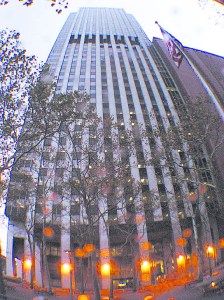 125 Broad Street
The AIDS Vaccine Initiative will cozy up with some friendly neighbors at 125 Broad Street. The nonprofit will take 37,404 square feet in the building for 15 years.
From its New York City headquarters, the organization will "ensure the development of safe, effective, accessible, preventive HIV vaccines for use throughout the world," according to a release. If those folks ever take time off from saving the world, they'll also enjoy some pretty spectacular views of the harbor.
"The building's premier location and quality are consistent with the noble efforts of this preeminent organization," said Mitchell E. Hersh, president of building owner Mack-Cali. Whatever that means, the building has managed to attract some of the city's nicer tenants. They include the American Civil Liberties Union and Sullivan & Cromwell (we're told it's a laid-back place by law-firm standards).
Marc R. Shapses, Jason Schwartzenberg and Joseph Messina of Studley represented the tenant. CB Richard Ellis represented the landlord.
The Real Deal first had news of the deal.