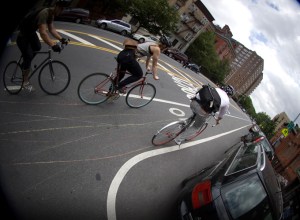 Bike-riding is probably one of the most fun things in the world (except when it's not). What could top the wind in your hair on a sunny day, shirt clinging to your back, maybe a few friends pedaling alongside? Maybe if you could turn your bike into a giant piece of sidewalk chalk.
That is the idea behind Contrail. Developed by a Brooklyn couple, it is a small device that attaches to a bike's seat tube, dispersing a liquid chalk mixture on the tires and then the street. Not only can it be used to create cool patterns on roads and parking lots, but for big bike rides, like charity events or critical mass, it can help keep groups together. It also serves a safety function, alerting drivers to the presence of cyclists ahead. And like all chalk, the Contrail washes away in the rain.
ULICU is the social enterprise behind the device. The name is Serbo-croatian for "street," and the company's mission is to foster an active, sustainable relationship for all people on the road. ULICU has just launched a Kickstarter campaign to raise $10,000 to begin mass producing Contrails–they currently cost $1,000 a piece to make, but this would buy a mold and some other fancy tech that would greatly bring down the cost.
This is not simply a business plan. Like all social entrepreneurs, ULICU plans on doing more with its products and will be donating half of the first 2,000 devices it makes to non-profits such as Biddeford Maine Community Bicycle Center and Brooklyn's Times Up. "Our big angle is that we recognize that this is a fun product for individuals, but the real power is in groups," co-creator Pepin Gelardi told The Observer. "We know a lot of non-profits are looking to use these in creative ways, and we want to make Contrail as accessible to them as possible."