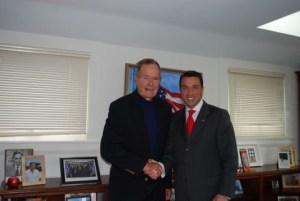 A day after Mike McMahon rolled out an endorsement from former mayor Ed Koch, his opponent in the Staten Island congressional race, Michael Grimm, sent out word that he is being endorsed by former president George H.W. Bush.
Grimm served in Iraq during the first war there under the first President Bush.
"As the Commander-in-Chief at the time when Michael served our country in combat, liberating Kuwait in the first Gulf War, I am very pleased to endorse Michael Grimm for Congress in New York's 13th Congressional District," President Bush said in a statement. "Michael's dedication to service as a U.S. Marine and as an FBI special agent exemplifies the type of commitment and integrity we need in Washington. Michael Grimm has the experience and proven leadership needed to get our economy back on track to create jobs and keep our nation safe."
According to the campaign, Grimm flew up to the Bush compound in Kennebunkport, ME to receive the endorsement, and met with the former President for two hours.
The elder Bush remains something of a sought-after endorsement in certain Republican circles. This year, he backed a slate of candidates from the more moderate wing of the party, like Kay Bailey Hutchinson of Texas and Colin Simpson, who was running for governor of Wyoming, both of whom lost to Tea Party-backed candidates.
It is very rare for Bush to endorse in a congressional race, especially one in New York, and it remains unclear how much his support will matter in a general election.