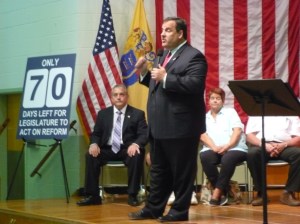 EWING – "The 70 days is about holding them accountable," said Gov. Chris Christie, as his reform tour landed in Ewing today. "You see me in the newspaper every day, I'm held accountable."
He wants to eliminate the Council on Affordable Housing and pass the Mayor's Toolkit, which gives municipalities new practices to abide by the 2 percent tax carp.
He wants ethics reforms, like legislative earnings disclosure.
He wants pension, health benefit, and monumental education reforms.
And he wants it all in 70 days. "Where are their ideas?" he asked.
He pointed out several bills that jockeyed for time in the legislative schedule ahead of his reform platform recently.
On Thursday, Oct. 7, the legislature – while revisiting the Race to the Top application – discussed several bills Christie classified, in other words, as mundane compared to his sweeping reforms.
S1833: "Designates March 13 of each year as 'K9 Veterans Day.'"
S2215: "Requires dentist to notify patient before providing dental prosthesis manufactured outside the United States."
S2201: "Establishes 'Property Tax Levy Cap Task Force' to monitor impact of changes to levy cap law."
A task force, Christie said, "to monitor a property tax cap that hasn't been passed yet."
"We're doing something, and forcing (the legislature) to do something," Christie said. "When you're doing real work, you're going to anger some people."