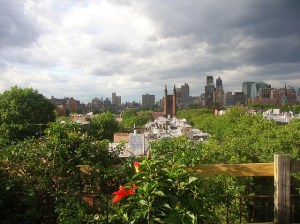 It turns out New York City is more bucolic than we thought. According to a study by Sustainable Yards — a group that focuses on making lawns truly "green" — 27 percent of the five borough's total surface area is covered by yards. The Journal turned up this nifty interview with researcher and Yards founder Evan Morris, who used Google Earth to index the city's lawns.
At 52,000 acres, all those front- and backyards account for almost twice as much as the city's 28,000 acres of public parkland, which are not included in the Sutainable Yards' count. That makes for a surprising amount of greenspace in the Big Apple. Morris said his next goal is to get New Yorkers to start thinking as sustainably about their yards as they do their groceries and lightbulbs.
I think there are a lot of New Yorkers who want to be green. They might look at a small bit of open space in front of or behind their house and say, "Well what good could this do?" But the more information we have about the environmental benefits of these spaces, the more we see that cumulatively, tremendous benefits can be realized.
Maybe this is where Walt Whitman got the inspiration for Leaves of Grass.