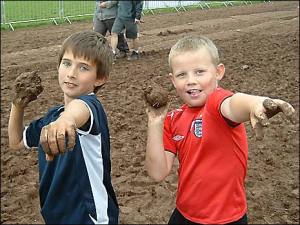 Well, that pledge to avoid throwing mud didn't last long.
After Andrew Cuomo vowed not conduct a campaign in the gutter, and Carl Paladino said he would focus on the economy, not on personal attacks, the two are back to sparring with one another this afternoon, this time over the issue of Carl McCall, the 2002 Democratic gubernatorial nominee who Cuomo dogged all through the primaries that year, and who endorsed Cuomo on Saturday.
"According to the New York Times, McCall himself called Cuomo 'divisive' and 'crass' for saying that the Democratic Party shouldn't nominate a black candidate for Governor in 2002 just to fulfill a 'racial contract,'" Paladino said in a statement. "These two career politicians don't even like one another, but they'll scratch each other's back in order to maintain power and line their pockets."
Added Paladino: "Cuomo and McCall share a lot in common – they both have a history of failing the taxpayers in their time in office, and they both got embarrassed running for Governor when the voters rejected them. I don't need approval from 'public servants' like these."
Meanwhile Jay Jacobs over at the state Democratic Party responded in kind.
"Carl Paladino is once again showing himself to be erratic and hypocritical. This morning he said that he would stop the smears and lies to actually address the issues New Yorkers care about – like creating jobs. But only hours later, Carl is back to his old playbook trying to smear Carl McCall, this State's former Comptroller. Carl Jekyll meet Carl Hyde. New Yorkers are hurting and want real change. They deserve better than the lies and smears and the hypocritical rantings of an extremist."
The state Party has lashed out at Paladino before, photoshopping a pigsnout onto him, a move which earned them a rebuke from Cuomo.