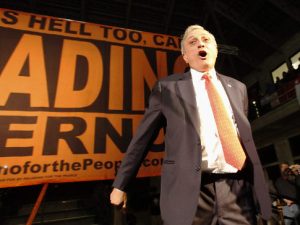 G.O.P. gubernatorial nominee Carl Paladino made a surprise appearance at the Conservative Party fundraiser at the Midtown Sheraton, our Meghan Keneally reports.
Paladino was the lone tuxedo wearer among a sea of suits and blazers, and was greeted warmly by the crowd with hugs and back slaps. He ordered a drink from the bartender, left a big tip, and then dashed off to the Al Smith Dinner.
Asked for comment, Paladino said. "I am sorry, I am not taking any questions tonight."
The Conservatives have had an uneasy alliance with Paladino. Although they see eye-to-eye on many issues, Conservative Party chairman Mike Long was originally a big backer of Paladino's vanquished G.O.P rival Rick Lazio. Last month, Long called Paladino "more of a character than a candidate," and accused him of "just renting the Conservative philosophy."
Once it became clear that Lazio was finished, Long changed his tune, saying, "I'm closing that book."
The Conservative Party will need Paladino to receive 50,000 votes on its line in order to qualify for an automatic ballot slot for the next election.