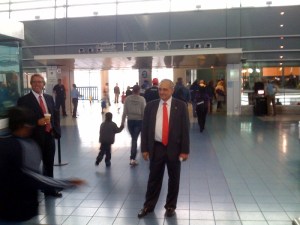 After greeting some commuters at the ferry terminal on Staten Island this morning, Carl Paladino explained this his proposed cuts are not simply numbers he is throwing out there.
"No, no, no. There are very complicated formulas," Paladino said. "There's multiple areas where we're going to be cutting spending. Obviously we're going to get rid of entire agencies."
Among them, he said, were the Division of Housing and Community Renewal and the Lower Manhattan Development Corporation.
"We'll be able to cut more than 20 percent," said Paladino, who had yesterday told Newsday the plan might be "unrealistic." (Paladino singled out the Newsday reporter to explain the "nuances" he felt were not grasped in that story.) Paladino said it takes time to eliminate agencies and transfer functions to other agencies.
"In that process, we may choose to have 25 percent in total cuts, which actually in the first year might only be 20 percent because you have to have a downsizing period," he said.
That's five percent higher than the 20 percent he has trumpeted throughout the campaign.
"Yes, we are raising the amount we think we can cut in spending," Paladino said. "Gentlemen, I think we can cut far more than 20 percent. I don't doubt it one bit." Paladino said the campaign would be issuing his plans in writing sometime soon–possibly by the end of the day today.
("Mr. Paladino has been reversing himself so much when it comes to his plan to cut spending that he ought to use some of his millions to buy Dramamine for voters," said the state Democratic Chairman Jay Jacobs in a statement.)
The fascination with Paladino meanwhile seems to have worn off a bit. Only three reporters turned out to hear from the candidate and watch him shake hands with morning commuters. He gamely made his way through the crowd waiting for the ferry, offering his hand and telling people he was running for governor.
For all the strong reactions he seems to inspire, most of the morning commuters simply said it was nice to meet him too.
"It's not nice to meet him," one woman chastised her friend after he had passed.
But there were supporters too, including one older woman who went in for one of Paladino's patented hugs. "You got my vote," she said, before giving another hug to Paladino's aide, John Haggerty.