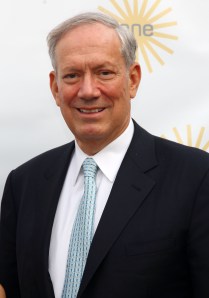 Former Gov. George Pataki waded into the G.O.P's efforts to retake the House by hosting a press conference call with Republican challenger Randy Altschuler and knocking Altschuler's opponent, Congressman Tim Bishop, for inviting both Vice President Biden and former President Bill Clinton to campaign with him over the next several days.
"Its just not right that the people on the east end of long island have someone who doesn't vote with their interest but votes with the interests of Washington," Pataki said. "Nancy Pelosi already has a district, its San Francisco, not Suffolk county."
Gov. Pataki focused on Bishop's legislative record, knocking his adherence to the Obama administration. He highlighted Bishop's votes on the stimulus, "deficit busting budgets," and the health care bill, which Pataki called "one of the worst bills I've seen passed in my lifetime."
Altschuler said that the fact they are bringing in such big names shows that Bishop is nervous. This analysis may not be borne out by the facts however.
The latest Siena poll puts Bishop 12 points ahead.