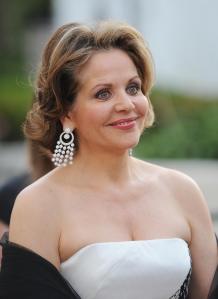 After a 15-year collaboration that catapulted Renée Fleming from just another plush-voiced soprano to a glamorous, genre-crossing household name, the singer is parting ways with legendary publicist Mary Lou Falcone.
Ms. Fleming's manager, Alec Treuhaft, said that Ms. Fleming had "decided she wanted to take this part of the operation in-house," and Ms. Falcone confirmed that their business relationship had ended. Ms. Fleming's assistant, Alexandra Day, said that she and other members of Ms. Fleming's personal staff would be taking over the singer's public relations starting in January.
The move comes as Ms. Fleming, 51, has gradually been scaling back her opera performances in favor of more recitals and private concerts, experimenting with a broader range of artistic styles and taking on nonsinging appearances such as hosting the Metropolitan Opera's Live in HD telecasts. "I have to focus on what I'd like to accomplish in the next 10 to 15 years," she told the Wall Street Journal in April, two months before the release of Dark Hope, her album of indie-rock covers. Ms. Falcone did not handle the album's release.
Ms. Falcone is one of the most highly regarded behind-the-scenes figures in the classical-music industry, known for the subtle strategic crafting of an artist's image over the course of decades. In the acknowledgments of her 2005 memoir The Inner Voice, Ms. Fleming wrote that Ms. Falcone "has advised me every step of the way and in all things." Ms. Falcone started her eponymous public relations company in 1974 and currently represents a carefully curated list of high-profile artists and institutions, including the conductor Gustavo Dudamel, the Vienna Philharmonic, and Carnegie Hall.
She began working with Ms. Fleming, now one of the biggest stars in opera, in 1995, the year the soprano opened the Met's season opposite Placido Domingo in Verdi's Otello. Ms. Falcone shepherded Ms. Fleming through her career's low points–particularly a rocky period during 1998, when she was booed at La Scala (a night Ms. Fleming describes in her memoir as the worst of her operatic life), divorced, and canceled a run of La Traviata at the Met–as well as her more recent successes, including a performance of "You'll Never Walk Alone" at the concert celebrating President Obama's inauguration that sealed Ms. Fleming's reputation as "the people's diva."