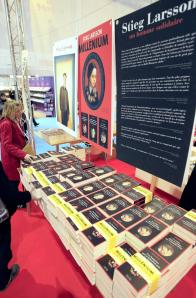 In an interview with CBS on Sunday, Stieg Larsson's father and brother, the executors of his literary estate, said that the widely reported fourth book of his popular Millennium series was actually intended to have been the fifth book in the series.
Mr. Larsson's brother Joakim said that the author had skipped book number four and went straight to number five "because he thought that was more fun to write." The circumstances surrounding this book were already complicated by the fact that it's only three-quarters finished, and exists on a laptop currently owned by Stieg Larsson's longtime girlfriend, Eva Gabrielsson.
The novel was mentioned frequently in Charles McGrath's New York Times Magazine piece about Mr. Larsson's entirely posthumous publishing career. That article portrayed the fourth book as a last bargaining chip for Ms. Gabrielsson, who has no legal rights over his other works, as the two were never married. In that piece, she says she never wants the last book published, which is great because according to CBS the Larssons also don't want it published. Everybody's just content to just talk about it with the media.
"Depending on the plot and substance of the story, it is possible that it could work as the fourth book in the series, even if it had been intended to be the fifth," The Times points out this morning.
Earlier: Lisbeth Salander's Big Payday