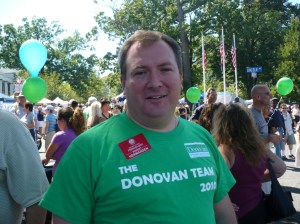 A few weeks ago, Bergen County Administrator Tim Dacey shot two letters off to the Freeholders and constitutional officers like Sheriff Leo McGuire, Prosecutor John Molinelli, and County Clerk Kathe Donovan – who is running against Dacey's boss, County Executive Dennis McNerney in November – advising them to pull their county funds out of Wachovia Bank.
Dacey was sending the letters, he said, to pre-empt an ethics complaint filed last summer against Freeholder Rob Hermansen, who works for Wells Fargo, which owns Wachovia Bank. At his first meeting as Freeholder in January, Hermansen voted to affirm Wachovia as a depository for county funds, and some eyebrows went up. In August, an ethics complaint was filed – aided, in fact, typed by the Bergen County Democratic Organization – to the state ethics board. But the state told PolitickerNJ at the time that the county ethics board, not the state, would handle any potential Freeholder conflicts.
The complaint was then forwarded to the county, but nothing has happened since.
That is, until Dacey urged the county officers to pull their funds preemptively in September.
"Please be advised that there is currently State and County ethics violation investigations pending against a Bergen County Freeholder who has an interest in Wachovia and Wells Fargo. The Freeholder Chairman (Jim Carroll) has asked me to ensure that the County is in compliance with all ethics rules and the County is in the process of closing our accounts with Wachovia Bank until this matter has been resolved," Dacey's letter stated.
"I urge all County of Bergen Constitutional Officers to curtail any banking business they currently may be transacting with Wachovia Bank until the ethics violation investigations with regard to this Freeholder have been concluded."
Hermansen says the complaint is political assasination on the part of opponents on the board and claims he was set up.
"It was a setup," Hermansen said, accusing Carroll of hurrying the vote in Hermansen's first meeting on the county board, and over Hermansen's closed session requests for clarity on any conflict before voting. "They did what they had to do."
"You're going after my livelihood. You're going after my career," he said. "You're going after my family and children. If it's that important for them to hold onto the position… Why? What is going on in there?"
In the first letter, Dacey doesn't name Hermansen. But in the second letter, sent the same day, Dacey does mention the GOP Freeholder.
Dacey said the letter was sent as a follow-up after Hermansen berated him over the phone.
Hermansen told Dacey, according to both parties, that there was no state ethics complaint, which Dacey conveys in his second letter.
Dacey said Hermansen tried to challenge whether the county ethics board had received a complaint, but Dacey states in his letter that Deputy County Counsel James X. Sattely, who is also the attorney for the Bergen County Board of Ethics, confirmed a complaint about a Freeholder, Wachovia Bank, and potential conflict of interest.
"(Hermansen) clearly voted for Wachovia, thus causing a conflict," Dacey told PolitickerNJ today.
As far as the funds, McNerney's Chief of Staff Brian Hague said all constitutional officers have agreed to remove all of their funds except one: Donovan.
"It's safer to suspend all business at this time," he said. "They've all agreed with exception with the clerk."
As far as county-controlled accounts, "We're shutting those down right now."
Hermansen said today that the county did business with Wachovia long before he took office.
"They had accounts at the bank 15 years before I walked through the door," he said. "I think Kathe has a right to make a decision just like anyone else. Did anything actually occur? Why would she jump to conclusions?"
But Donovan, maybe just being cautious, said today, "We are moving them effective Nov. 1. We're negotiating on two banks now."
"Aren't we putting the cart before the horse?" Hermansen said. "I never told Tim Dacey it was okay to release my name. This was a closed session. I shouldn't have to be discussing this; there's no charge. He breached my rights as an employee. They don't do anything right."
Hermansen took his own shots against what he says is a hyper partisan administration and board.
"The BCIA became a disaster under (this administration)," he said. "And you know who (the board) liaison to the BCIA was? Jim Carroll. I don't remember anyone from the BCIA brought in to explain (their situation). Not one of them has been dragged before us. They have too many people want to take other people down rather than do their jobs. It's a political gesture to take people's eyes off the ball. When you have an ethics complaint on a 7-0 vote, this is what they're talking about?"