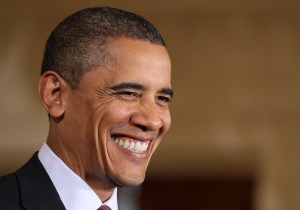 President Barack Obama will take his midterm campaign tour to The Daily Show on October 27, the White House has announced. The president's appearance will coincide with a week of shows broadcast from Washington D.C. ahead of the Halloween weekend's "Rally to Restore Sanity" on the National Mall.
The president has previously stated his support for the rally, which aims to promote a more moderate political discourse. This is not Mr. Obama's first late night appearance as president. He's visited Jay Leno and David Letterman before, but this will be his first visit to The Daily Show as head of state.
Before he took office, Mr. Obama visited the show four times, usually in a campaign capacity. His first appearance was via satellite back in 2005 and can be seen below.