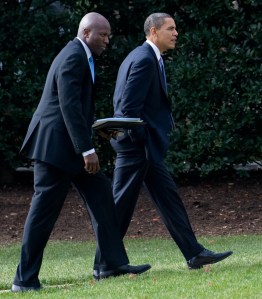 New York Times White House correspondent Peter Baker spent some time with President Obama in September for a story in the Times Magazine this weekend.
President Obama showed Mr. Baker around the redesigned Oval Office. He tossed out President Bush's yellow carpet and brought in some earth tones and fresh fruit. "I know Arianna doesn't like it, but I like taupe," the president told The Times. He was responding to a blog post that was critical of the new color scheme written by Arianna Huffington in September when photographs of the Oval Office makeover made it into the press.
She said the redesign made the President's offce look like the "Taupe Executive Room at the Embassy Suites." We are waiting for Ms. Huffington to put pictures of her house and workspace on the internet so that Mr. Obama, or whoever, can say what they look like.
Mr. Baker also asked the President if he owned an iPad. "I have an iReggie, who has my books, my newspapers, my music all in one place," President Obama answered. We have heard that iReggie also plays basketball.