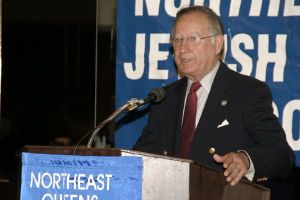 Fight Back New York, the pro-gay marriage group that brought us those celebrity web videos this election cycle, is out today with its first target of the general election season: Queens state Senator Frank Padavan.
Padavan is one of three Republican senators in the five boroughs, and he has long been on Democrats' wish list of senators they would like to take out. However, he has proven to be unusually resilent to their onslaught, despite changing demographics in his district, which has seen major gains in the number of registered Democrats. In 2008, city Councilman James Gennaro came within 500 votes–of 95,000 cast–of unseating Padavan in a race that state Democrats did not put much money or effort into.
This year, Democrats say that the race is a priority for them, and believe that if they devote sufficient resources, they can defeat Padavan. Republicans, however, say that Gennaro's totals were swelled by voters for President Obama, and that Democrats will lack that kind of surge this year. They also note that Republicans have won a series of down-ballot races in that area since the 2008 election.
The Democratic candidate is Tony Avella, whose failed run for mayor in 2009 brought him a lot of name recognition.
"We've been doing our research, analyzing the most competitive races across the state. Based on our research, we believe we can replace Padavan with Tony Avella, the pro-equality challenger who is running a strong campaign against him," the group wrote in an appeal to its email list. "Padavan has spent years denying equality to LGBT New Yorkers. Padavan has been a leading advocate for passing a so-called 'defense of marriage act' in New York State — and doesn't even believe that civil unions should be an option for same-sex couples! We have 29 days from now until the Nov. 2 election, and we need your help."
Fight Back NY's track record so far has been mixed. They grabbed a major scalp when they defeated incumbent Erie County state Senator Bill Stachowski and replaced him with a pro-gay marriage candidate, and the Senate is slowly becoming a more pro-gay marriage body since they began their work last year. But anti-gay marriage crusader Ruben Diaz Sr. remains in office, despite an effort to unseat him in September.