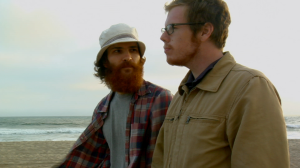 Douchebag is a fun little movie with an off-putting title that The Observer had the pleasure of watching the other night. A darling at Sundance this year, it's the tale of two brothers who reunite for a road trip on the occasion of the older one's wedding. It's one of those movies where everybody's sad but funny and learns something. Honestly, it's good.
The movie opens today in New York and we spoke with the film's 27-year-old director, Drake Doremus, about making the film, and terrorism.
Some title you've got there. Bet it's caused you some grief.
I definitely think we get a bunch of shit for it. But it's worth it in the end because we do gain a lot of exposure because of it. There are a lot of people who are upset with it, and I think it makes certain people turned off to the movie. The New Yorker really did not like the movie.
Outside of that title, it's actually a fairly earnest movie.
The movie was made with a genuine intention, so I think it does counteract the title. I think people are genuinely surprised at its subtlety and are expecting some kind of frat boy humor film.
I saw in the press materials that you met Andrew Dickler who plays Sam, the asshole older brother while he was editing your other film, Spooner.
We did it backwards from how we normally do movies because we had the actors and then wrote a story around them rather than having a script and then casting it. We absolutely custom-tailored the entire thing around Andrew.
But yeah I met him when he was cutting Spooner and he had that beard and he wore those flannels and we had conversations about me not having a credit card and he had his theories about figure-skating not being a sport. I was just like, 'Man, we have to put this in a movie, there's a movie here.' And we put a lot of the real experiences we had in the movie. In a way Tom [the younger brother character] is an exaggerated version of me and Sam is an exaggerated version of Andrew.
How did Marguerite Moreau, Sam's fiancé, become involved in the film?
I met her through a different movie and always had her in mind. I just read that NPR, in their review called her the hipster version of a trophy wife, and I thought that was really funny. I just think she's fantastic, and I grew up watching her in a lot of movies. I think it helped Andrew a lot because she's so grounded and experienced and helped him understand a lot of things about the process of acting.
He seems to have a knack for it.
Surprisingly enough he just jumped in. I think all the years of working on the Christopher Guest films and all the films he's cut have, in a way, been training for acting. He's been judging performance and working with performances for 15 years, so I think in a way he's got a huge pallet of experience with acting, he's just never done it before.
Tom, the younger brother, is a painter. Who did the paintings?
A friend of ours by the name of Christopher Baier. All the paintings he did at the end were done last-minute. We had the idea for the ending and we just called him up and said we need 10 paintings in a week and he did it. It was very cool.
The painting that Sam focuses on in the end, the one of himself, recalls some kind of FBI terrorist photo. Was that intentional?
No, but that's funny and true for sure. Chris was just trying to capture what Tom would paint, essentially, and I think that that was just something that was very sweet and thoughtful in his perspective.
Douchebag opens today, with Q&A sessions with the actors and director at City Cinemas Village East tonight and tomorrow.
Check out the trailer: