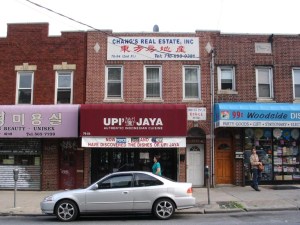 Midtown is the new downtown, sez the Post, at least when it comes to nightlife. That's something The Observer predicted last year, mind you, though now we're actually calling downtown real the future.
Meanwhile, AM New York is declaring Queens the new Brooklyn. And yet despite it's best efforts, the morning freebie can't get Jack Eichenbaum, the borough's historian, to agree:
The big question: Will Queens gentrify and become a borough of micro-nabes of coolness like Fort Greene, Clinton Hill, DUMBO, Red Hook, etc.?

Not likely for gentrification. These areas were once for the urban (upper middle class) gentry. Queens was built in more "suburban style" for the lower middle and middle class. (LIC is exceptional since it's an industrial conversion like Dumbo and Red Hook.) "Coolness" is something else. It's already here. It's increasingly cool to live in an area that has convenient transportation, biking … [and] not a price rip-off for most essentials.

[…]

Where are the most likely areas of gentrification and why?

Jackson Heights and Sunnyside Gardens are historic districts. Enclaves like Forest Hills Gardens, Kew Gardens, Malba … and Bayside Gables were built for the upper middle class or wealthy and haven't changed too much in the last century or so. Classic gentrification … is not as likely as more spillover of native-born Americans.
So there you have it, folks. As before, ugly buildings can kill a neighborhood. (Then again, look at the roaring success of Bushwick. Maybe anything's possible.)
For another take, check out Queen's Crap, The Observer's favorite blog from the biggest borough. Choice quote: "They're trying to force-gentrify Jamaica and Rockaway. Good luck with that."