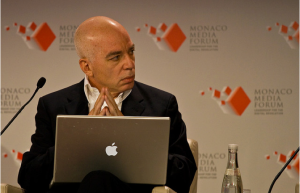 "If you want to make an omelet you have to break some eggs," e5 Global Media CEO Richard Beckman told The New York Times Tim Arango. Mr. Beckman was explaining his decision to tap Vanity Fair contributing editor Michael Wolff to run his company's Adweek Media Group.
Mr. Wolff, who is known for getting into small battles, will no doubt bring a scrappier sensibility to the group of trade publications that includes Adweek, Brandweek and Mediaweek. Mr. Wolff will suspend his Vanity Fair column, but continue writing longer stories for the magazine.
The news isn't a complete surprise after Jeff Bercovici reported in August that Mr. Wolff had been spotted several times taking the elevator up to e5's offices.
In his post about Mr. Wolff's new job, Mr. Arango wrote that Mr. Wolff's "most visible feud these days is with Rupert Murdoch." He also wrote that Mr. Wolff spoke with Keith Kelly at Mr. Murdoch's New York Post about his new job last week, but no story ever ran.
Earlier this year, Mr. Beckman installed Janice Min at The Hollywood Reporter. Mr. Beckman and Ms. Min announced in September that the trade will be relaunching as a weekly with emphasis on its web presence. That is to say that anything is possible with the Adweek Group.