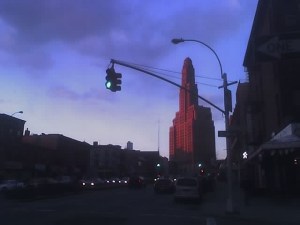 On Monday, The Real Estate Desk looked at what's wrong with Brooklyn's Fourth Avenue and why its 2003 rezoning has come in for mixed-reviews. The Desk's theory was subpar design, but hoping to make a contribution instead of simply criticizing the six-lane street, we asked a few experts for their thoughts.
City Planning spokewoman Rachaele Raynoff stood up for the city's work and pointed out that some of the problems would have been addressed by the forthcoming rezoning of the Gowanus — though that has been put on hold after the area was designated a Superfund site:
Creating inviting and engaging streetscapes has been a key part of City Planning's work, and indeed, active ground floor uses on streets within the Gowanus rezoning, including on Fourth Avenue, were an important part of the City's framework. However, a requirement for ground floor retail or community facilities would not have been appropriate in 2003 when the Park Slope rezoning was adopted by the City Council, nor was this issue raised during the public review process. Absent a market for the retail space on a newly developing corridor, such a requirement at that time could have discouraged development altogether by making it financially infeasible.
The Brownstoner Jonathan Butler agrees with City Planning that street life is important, but he disagrees with the rationale for forestalling it until now:
Obviously the main problem is the failure of all those new buildings to include retail.
Ron Shiffman, founder of the Pratt Center and a former member of the City Planning Commission, also thinks more should have been done from the start. But putting that aside, Shiffman said the issue the area's industrial legacy:
Part of the problem is that this is still a heavily automotive and industrial area, unlike Park Avenue, which was always residential and office when it was built. And unlike Park Avenue, you don't have all the truck traffic that you do on Fourth. Park Avenue is in the middle of a major residential and office neighborhood whereas Fourth Avenue is at the edge of a neighborhood. […] There are things other than urban design. Add inclusionary housing, so gentrification is less of an issue, and overtime, the character of the neighborhood would change.
Eric Safyan, an architect whose offices are located just off Fourth Avenue on President Street, reiterated the importance of retail and greenspace, but he thought a radical transformation of the street could have its advantages:
There should be a lot more landscaping, like you see on Park Avenue. Just taking out a car lane or two would help, slowing down traffic and creating more space for pedestrians and bikes. Right now, there's no bike lane on Fourth, but you see a lot of bikes. It's pretty dangerous.
Going back to the original Journal article that set off this debate, perhaps people are thinking about Fourth Avenue in the wrong way. Maybe it's not that the area has been slow to develop but that the other neighborhoods that were rezoned in its wake and against which it has subsequently been judged, places like Williamsburg and Downtown Brooklyn, perhaps they are the ones out of whack, growing too fast to reasonably control or grapple with.
As the Journal and our panel of experts suggest, things have been getting better along the stretch, largely in an organic way. Maybe this is how development is supposed to happen in New York City. Though a nice little infrastructure boost, say a bike lane and some trees, wouldn't hurt either.