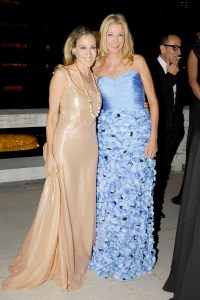 As the take-your-seats bell tolled, Sarah Jessica Parker swished out of the orchestra like a salmon swimming upstream.
The Sex and the City star, and former ballerina, is a newly elected member of the board of directors of the New York City Ballet. Inaugurating her tenure on the board, the self-professed "ballet enthusiast" acted as chairwoman of the Oct. 7 fall gala held at the David H. Koch theater at Lincoln Center.
The Halston creative director wore a shimmering nude gown delineating her svelte silhouette with a simple cut bodice, a plunging back line and a train–Carrie is all grown up and so is her updated version of the infamous naked dress. Asked who her dress was by, Ms. Parker told The Observer giddily, "It's by me!" She did a small but graceful twirl, not unballetic. "It's me for Halston Heritage!"
The actress was accompanied by Sex and the City producer Amy B. Harris, who acted as Ms. Parker's date for the evening in husband Matthew Broderick's stead. Ms. Parker's seat of honor was at the center of the first row of the mezzanine, an upgrade from the Ohio native's trips to the Cincinnati Ballet in her youth. "We had standing-room-only tickets, but we went all the time, and I loved it immediately," she later told The Observer.
Ms. Parker, who wore a row of diamond baubles layered over a strand of painted ivory beads applauded vigorously for every encored bow. The small star leaned forward toward the balcony, her jewels matching the gemlike faceted octagons symmetrically marking each box and section of the mezzanine in the Phillip Johnson-designed theater.
"Isn't it beautiful?" Gossip Girl actor Matthew Settle asked The Observer of his velvet-trimmed Dolce & Gabbana tuxedo. Mr. Settle vividly described his first ballet experience as an 11-year-old in Knoxville, Tenn. "I went to a religious seminar with my parents [his father is a preacher, his mother an organist], and the stadium was connected to an auditorium, and The Nutcracker was being performed there. So I snuck out and went behind the stage and in walks this gorgeous prima ballerina, and I fell in love. She invited me back to the performance, and I took my cousin Glenda as my beard. Afterwards, I went and bought ballet shoes and wore them everywhere."
A surprise guest even to event organizers, Jake Gyllenhaal sat discreetly in the last row of the orchestra accompanied by a petite brunette.
After the performance, Natalie Portman stood diligently next to her raffishly handsome boyfriend of over a year, Benjamin Millepied, the principal dancer-cum-choreographer whose ballet Plainspoken premiered that evening. Mr. Millepied choreographed the dance sequences in Darren Aronofsky's forthcoming Black Swan, starring Ms. Portman, on the set of which the two are rumored to have begun dating.
Grecian in a diaphanous emerald green dress with curls of georgette that looped and coiled around the actress' tiny torso, Ms. Portman politely declined The Observer's interview request: "I'm so sorry, not right now."
Ms. Parker chatted on the terrace with Sex and the City scribe (and Observer alum) Candace Bushnell, who wore a sky blue Badgley Mischka that looked lovely from afar, but upon closer inspection, the flowered skirt more closely resembled Esther Williams' swim cap than haute couture. Ms. Bushnell, who is married to NYCB principal Charles Askegard, is currently working on the sequel to her most recent publication, The Carrie Diaries.
"I'm writing The Carrie Diaries 2: Summer in the City right now, as we speak. I'm on a really tight deadline for this book. I know I have to pace myself, so I try to write eight pages a day. I just get up and do that, and after that I'm pretty tired."
Like Cinderella at the stroke of midnight (though in this case closer to 11), as soon as coffee was served with toe-shoe-shaped pralines, the majority of the guests–an older crop of society staples including Fe Fendi, Anne Bass, Gilles Mendel and Francesco and Alba Clemente–rose from their seats, said their goodbyes and headed down the stairs. They streamed onto Colombus Avenue where some slipped into waiting black sedans, and others, such as Leslie Stahl, made eager efforts to hail a yellow cab before it turned into a pumpkin.