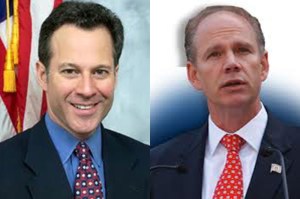 Even as the political world remains focused on Alan Hevesi's arrest and Carl Paladino's upcoming TV appearance, the tight race for attorney general rolls along.
Eric Schneiderman, who has said that he will unveil one policy idea every day before the election, is out with a plan to expand Project Sunlight, which was Andrew Cuomo's major initiative to increase government transparency.
Schneiderman's plan calls for more disclosure of member items and spending, including more information on the board of directors of an organization that receives member items and posting the actual contracts that the state enters into.
"New York taxpayers deserve a government that is transparent and accountable to no one but them," said Eric Schneiderman. "Attorney General Andrew Cuomo's Project Sunlight gives New Yorkers unprecedented access to government business and I will build on his great work to ensure that legislators are held accountable to taxpayers."
Meanwhile, the Donovan campaign is continuing its effort to paint Schneiderman as soft-on-crime and too liberal for the general election, and knocking Schneiderman for missing votes that would have cracked down on sex offenders. Both votes, the Donovan campaign notes, sailed through the Senate by a 58-1 margin, so it's doubtful Schneiderman's absence was much noted, but still, says Donovan spokeswoman Virginia Lam, "State Senator Schneiderman's absenteeism, coupled with his other anti-law enforcement votes are troubling. Where was State Senator Schneiderman? State Senator Schneiderman has stood up for special interests and powerful insiders, but when will he stand up to protect New York families?"
If the Schneiderman campaign seems the more high-minded of the two this morning, perhaps that is because the state Democratic Party has been out attacking Republicans. Today they are out with a release noting that six donors gave more than the maximum allowed to Donovan. They are calling for a Board of Elections investigation, but perhaps more troubling to Donovan is the fact that he must return over $75,000, nearly 20 percent of his cash on hand.
UPDATE:
The Schneiderman rapid response unit is out with a statement responding to Donovan. Says campaign spokesman James Freedland:
"As the father of a 17 year-old daughter and a leading advocate for crime victims, Eric Schneiderman not only voted to strengthen Megan's Law six times to ensure that our children are fully protected from sex offenders, but actually helped pass its expansion in the first place. Eric's smart-on-crime record, along with the fact that murders and rapes soared under Mr. Donovan's watch, are just two of the reasons leading Republicans like the state's former head of homeland security said they trust Eric more than his opponent to keep New Yorkers safe."
And from Donovan campaign spokeswoman Virginia Lam:
"We have been clear, any contributions above the limit will be returned. This is the same old tired political grandstanding that just has no legs."