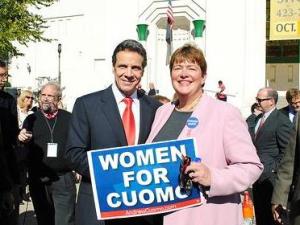 Before there was Lisa Murkowski or Mike Castle, there was Dede Scozzafava.
The upstate assemblywoman whose name became a verb after she got chased from the special election in New York's 23rd District last year–in one of the first signs that the party would eat its moderates this election cycle–commented on the race for the seat that was supposed to be hers, but said she had not yet decided if she would cross party lines again and back Democrat Bill Ownes.
"Not at this point, but I will have," said Scozzafava, after cheering on Andrew Cuomo at a rally in Westchester. "I'm watching the race, it's evolving. I think Bill Owens has done a fairly good job at representing the area. And I think the North Country is a moderate type of territory so we'll have to see how the race unfolds."
The Cook Political Report recently downgraged Owens' chances from leaning Democratic to a "toss up," after Conservative candidate Doug Hoffman opted to bow out of the race, leaving Republican nominee Matt Doheny as the only right-leaning option.
"With Hoffman dropping out of the race this past week, it kind of opens up the race," said Scozzafava. "But his name is still going to be on the ballot, and the type of voter that he was attracted to, I don't think is going to go back to the middle."
Scozzafava said she was not surprised that Hoffman, who basically ran her out of the race last year had dropped out.