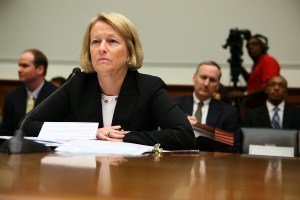 The Securities and Exchange Commission said today that it has gotten a court order to freeze the assets of Imperia Invest IBC, a company that: 1) falsely guaranteed 1.2 percent daily returns on investments but really just stole the money; and 2) for some reason appears to have disproportionately targeted deaf people.
The SEC says that Imperia Invest raised $7 million from 14,000 investors, more than half of them part of the U.S. Deaf community. According to regulators, Imperia said that investors could only get their money by buying a Visa debit card for a few hundred dollars. That, apparently, was a lie: The company had no relationship with Visa, and it allegedly distributed investor money into offshore accounts and never paid a dime back to any of the people it defrauded.
Imperia's website appears to be down, but a message-board thread called "IBC/Imperia" on AllDeaf.com offers some insight into the firm.
One user says:
It's probably a scam.

I checked the website… seems like they have a lot of things to hide from us. No matter what kinds of questions we ask them, they pretty much avoid answering them due to "SEC issues", "non-disclosure agreement", "privacy issues", etc…
And another, apparently pro-Imperia commenter touts the potential reward and downplays the risk:
Same thing about IBC but I was very risk to join IBC just try if lost money that fine… Just postive to get money or not either [Fingers crossed emoticon]

also I join other Minvestment that 1.4% – 1.7% daily that not risk…

Sometime I am afraid to join but not wait til then later sorry so sometime I am very risk to join sometime success or sometime not success that all right that give you good exprenice with mistake and fun….

Good Luck and Happy New Year… Hope 2008 will be better for you all…

Rara
Crazily, a third commenter says that Imperia is not a scam, and points to a site that ranks a bunch of other investment deals that look too good to be true.
Minvestment and Imperia Invest IBC are no risk! You already signed up the Minvestment, you will make sure to see that happen until 150 days later, you will receive $1,000 then deposit $1000 and send it. It is that 2 plan until 150 days later, you will earn $25,000. My friend explained me about it. That sound was so interesting. Imperia Invest IBC is one world income! NO RISK! Minvestment is no risk for the investment program. Go website on HYIP Investment Programs Best HYIP Monitor Rating Scams Forums, you will learn more things are real or scammed.
We are not financial advisors, but we urge caution when dealing with Internet-based investment companies that offer extremely high returns with no risk.
mtaylor@observer.com
Twitter: @mbrookstaylor