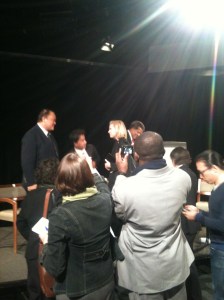 Sen. Kirsten Gillibrand fielded questions from the city's ethnic and immigrant press today and she was asked about a measure she supported while in Congress that would have deputized local law enforcement to enforce immigration laws.
"Well I represented a very rural upstate New York district and now I represent the whole state," she said. "And so my responsibilities have changed but my core values and my core beliefs have not changed. I have always cared about making sure that families have opportunities to succeed in this country, that we have a comprehensive immigration reform bill."
Gillibrand has, if not changed many of her views since becoming a senator last year, certainly emphasized some and de-emphasized others. While in the House, she was not known as a fervent supporter of gay rights, but as the Vogue profile pointed out, she certainly is now. And while in Congress she bragged about keeping guns under her bed, but she hasn't talked much about the Second Amendment in the past two years.
She went on to say:
With regard to the specific issue that you, mentioned I do believe now that I don't think that law enforcement should be enforcing the raids. One of the first things that my constituent asked me when I became senator was, 'Can you stop the home raids because they are affecting our families in such a terrible way.' And so I looked into the issue and I now agree that enforcing home raids through the police force is not the appropriate way, that in fact we need comprehensive immigration reform because we need the federal government to take responsibility for these issues and I think its very important that we push for that comprehensive bill this year
After, Gillibrand was asked about the Vogue profile and photo spread that was published yesterday, and she said she thinks it will serve as an example to young women:
You know it was a great opportunity for me to speak to women. Because one of the challenges we have in this country is in the U.S. Senate and the U.S. House, only 17 percent women are serving. And so if I can bring my story to more young women all across the country, to urge them to consider public service, I think it's a really good thing.
The photo spread was something of the political talk of the town today. Mayor Bloomberg was asked about it at his morning presser, and he said he sat next to Gillibrand at the Al Smith dinner last night and that she looked "stunning." And Gov. Paterson said that she was "a very pretty woman."