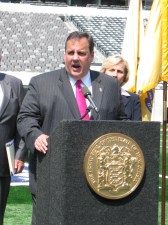 A new website has been created with an eye toward drafting Gov. Chris Christie to run for president in 2012.
The site, www.draftchristie2012.com, was launched by former New Jersey Republican Assembly Executive Director Donald Sico.
"I know Chris does not want to run," said Sico in a release announcing the site. "We have to make him run because quite frankly he is the right person for the job at the right time. America has never needed someone with his fiscal commonsense than she does right now."
The site opens with an introductory message entitled, "Ask yourself: If not Chris, then who," which talks about the need for strong leadership in the years to come. Sico points out "baggage" that other Republican front-runners including Mitt Romney, Newt Gingrich and Sarah Palin carry. There are a number of potential candidates out there, Sico says, "but none of them excite me"
"But there is one: Christopher J. Christie," Sico's message says.
From there, the site directs visitors to fill out a form in support of Christie. According to Sico, the information from the form will be shared only with Christie and no donations will be accepted.
Christie has been touring the country in support of Republican candidates from Pennsylvania to California, including a trip to Iowa, traditionally the first stop on any presidential campaign tour. The stump tour has led many to believe Christie has aspirations for the country's highest elected office, but the governor has repeatedly and vehemently denied any interest in the job, saying he is not ready and doesn't have the type of commitment it would take for a successful run.
But the dearth of viable Republican candidates has led some – including, apparently, Sico – to believe the GOP will need to make a strong pitch to the popular governor, who has seized national attention with his no-nonsense, confrontational style.
An email to an administration spokesman for comment on the site was not immediately returned.