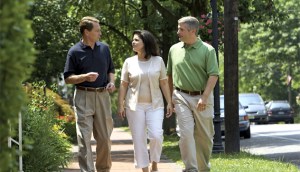 Burlington County sources say Assemblywoman Dawn Marie Addiego (R-Evesham Twp.) is the party favorite to be the next state senator from the 8th Legislative District, but there may be other contenders.
A former Evesham Township councilwoman and Burlington County Freeholder, Addiego weathered a tough 2007 battle to become assemblywoman on a ticket with state Sen. Phil Haines (R-Mount Holly) and Assemblyman Scott Rudder (R-Mount Laurel).
Haines is retiring from the senate to become a superior court judge.
The senate judiciary committee yesterday approved Haines for a judgeship by a unanimous vote of 8-0. The senator is scheduled for an October 18th floor vote and intends to resign when the governing body approves the nomination made by Gov. Chris Christie.
Although he would not speculate on Haines's replacement, Burlington County GOP Chairman Bill Layton said he plans to have a senator selected by Nov. 18th.
"We're going to have a screening committee hear from those interested candidates and then the screening commtitee will issue their recomendations to the muncipal chairs," Layton told PolitickerNJ.com.
If the party organization selects Addiego, the county committee will schedule another screening process to determine her replacement. Mount Laurel Councilwoman Linda Bobo is a potential player for the seat.