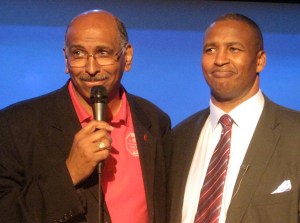 Republican National Committee chairman Michael Steele campaigned in Harlem today for congressional candidate Michel Faulkner, stressing the image of the new Republican Party as the people's party.
"A lot of times we talk of our party in terms of the Grand Old Party," Steele said at the event. "And there's a lot that's grand, there's a lot that's old about our party. But here today in Harlem, standing shoulder to shoulder, arm and arm with Michel Faulkner, we are now the Great Opportunity Party, we are the new G.O.P."
Ed Cox, chairman of the New York State Republican Party, also spoke at the rally in support of Faulkner. Steele and Cox have battled, off and on, throughout the election season. Steele objected when Cox backed the former Democratic county executive, Steve Levy, for the party's gubernatorial nomination, and later steered national money around Cox, to local committees.
But both kept the focus on Faulkner, who is challenging nearly 40-year incumbent Representative Charles Rangel.
"We know Charlie Rangel's an institution, we get that," said Steele, who arrived on "Fire Pelosi" tour bus. "We know he's served a long time, we get that too. But at some point in your life folks you have to look around your neighborhood, you've got to look at how your kids are being educated. You've got to look at how your businesses come in and then go. How they die on the vine."
Like many Republican challengers, Faulkner emphasized his outsider status.
"I am very much the people's candidate," he said. "I was not put forth by a machine."
With only passing references to taking back the House and Senate, most of the focus was on Faulkner's race.
On his way out, Steele did talk about the positive effects of the Tea Party, saying that it was bringing back voters who had left the Republican party.
"In many respects the Tea Party has been very helpful in reinvigorating the party's base and reconnecting us to some of those old fashioned principles, if you will, that we forgot on our journey between 1994 and 2006," Steele said. "There's a reason why we lost in 2006, there's a reason why we continued to lose in 2008: because a lot of people who supported us through the '80s and the '90s, and for a good part of this century, walked away, they felt that the party walked away–that we got into big government Republicanism. That we started spending money and that we started juicing the institutions of government and that's not been part of our make up."
Congressional candidate Susan Kone from NY-8 also spoke at the event, as did New York Republican County Committee Chairwoman Jennifer Saul.