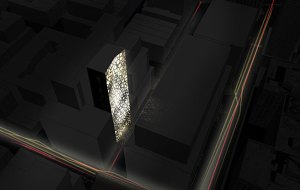 If you needed any convincing that the Park51 community center cum mosque was in fact a multicultural institution, just ask Michel Abboud. He is the principal of SOMA Architects, which has done all the design work thus far on the controversial project on Park Place. He sat down with Architectural Record recently for an exclusive interview, and here is how he described his relationship to the project:
I'm Catholic, so that shows that it's not an Islamic firm, that it's not all Muslims. For us, it's about joining cultural differences into one project. You've got a developer who's Egyptian, who's from a Polish Catholic mother, who goes to a Jewish community center, an architect who has citizenships from France, and Mexico-French and Mexican and Lebanese at the same time, so it's a mix of a cultures, isn't that the whole point of this project?
Sharif El-Gamal, the project's developer, has said he would hold an international competition to select a firm to design the final building, and that still seems to be the case. Mr. Abboud said there could be "a bigger corporate office with more construction experience in New York that will take over the project for the development phases that we're working with… We have a few candidates in mind."
Yet having worked through the project from the start, no one but Mr. Abboud has a better sense of its difficult intricacies:
From day one we knew this was going to be a complicated project in terms of controversy, how many parties we have to please – starting with the developer – the religious institutions behind the prayer space, the community, and not to mention all the political parties. Some parties required a more traditionalist approach to what Islamic architecture should look like – whatever that means. If you try to define that, it's going to be pretty hard.

Other people just expected another building in New York, and from the start we knew that we didn't want that building to look like anything else. We wanted the building to be able find its roots into what makes Islamic architecture culturally recognizable as Islamic, without necessarily being religious – because that's a fine line also: What makes an Islamic cultural element, or religious element?

So we went back to really some of the most ancient traditional elements, internationally – even though we're so aware it's been done before, by other architects, namely by Jean Nouvel – taking the Islamic motif and converting it into some sort of facade. In our case it was a little more than that. It was going back to the very essence to what makes Islamic architecture recognizable, and if you go back to history there's a single motif, the Mashrabiya, the sun screen really, using abstract representations, very elaborate arabesques, and turn that motif into some sort of a map to create the facade.
Here's hoping he keeps the job.