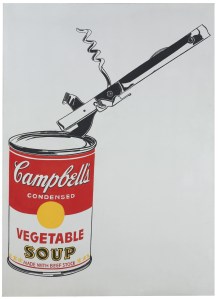 Somewhere, Andy Warhol is laughing. The two-centuries rivalry of Sotheby's and Christie's boils down in coming weeks to two 1962 paintings, both by the Pop Art prince, and both carrying the sensational presale price estimates of more than $20 million apiece.
The two artworks, a soda bottle and a soup can, form the gladiatorial centerpiece of the fall auction sales. Sotheby's, Christie's, Phillips de Pury and smaller auctions will put property valued at about $900 million on the block from Nov. 2 to Nov. 12.
It's a season when almost everything has changed from a year ago, auction house officials, dealers and collectors said. The art market–at least the auction market–is defying the economy's broader malaise. There are new buyers (Asia), new sellers (Steve Wynn, Demi Moore and a slew of estates) and a new math for pricing art. (Less based on historical comparables, and more on what a pretargeted buyer will pay.) And there's an outside player holding a surprising share of the cards (Larry Gagosian).
In a break with years of tradition, this year the most expensive paintings aren't the Picassos. While these sales feature some fine Impressionist works, a lofty Modigliani nude, a Matisse sculpture and a smattering of German Expressionists, all the suspense and theater is in postwar art.
Sotheby's has a historically important wall-eater, Coca-Cola [4] Large Coca-Cola, made the year that Warhol had his first gallery show. It is "high-impact and tremendously important," said Tobias Meyer, vice chairman of Sotheby's, who delivered that sales pitch recently in Hong Kong. The bottle, being sold by collector/artist Elizabeth Richebourg Rea, is estimated at $20 million to $25 million.
Sotheby's nabbed that trophy first, but then Christie's landed one. It has an emblematic Warhol image, a Campbell's Soup can. Over the decades, some art critics have concluded that this is Warhol's most peculiarly American imagery, that the cans represent the bounty and consumerism of the nation after World War II. "Big Campbell's Soup Can With Can Opener (Vegetable)" is estimated at $30 million to $50 million.
Cult collectors Burton and Emily Tremaine–their Jasper Johns Three Flags is in the Whitney Museum–bought it directly from the artist decades ago. Hollywood executive Ted Ashley was the next owner. He sold it at auction 24 years ago for about $250,000. Then, Seattle computer mogul Barney Ebsworth bought it. He's selling it to build a meditative chapel by Tadao Ando on Interlaken Lake.
Which Warhol will "win" and by how much? (The highest bid for any Warhol, $64 million, was made in 2007; the buyer is believed to be Philippe Niarchos.) The Christie's painting, enlivened by vivid red, has the more ambitious estimate. That said, detractors argue that it doesn't have the power of the singular Coke bottle, that the not particularly attractive can opener is too big. But the Sotheby's piece, a cheap $20 million by comparison, is all black and white. One dealer dubs it "a connoisseur's choice," which is art-world code for "smart, rich people may bid for it, but are there enough of them?"
The sales overall are huge, particularly at Christie's, which won a lion's share of the estates. Phillips, too, is having a blockbuster contemporary art sale curated by Philippe Segalot on Nov. 8, Across the board, prices are running, on average, 20 percent below the "boom premium," but still may remain too high to move all this art. The works are pre-placed as much as possible: "You can't just wish on a star and hope people will start bidding," said Christie's Impressionist and Modern Art director Conor Jordan.
Hovering over it all is über-dealer Larry Gagosian, whose impact on the auctions has never been greater. After something akin to a contemporary art shakeout, the auctioneers are reluctant to put work by artists from the past two decades on the block. To an unprecedented and disproportionate degree, the ones who made the cut are shown by Gagosian: Mark Bradford, Mark Grotjahn and Christopher Wool, among several.
Christie's chairman of the Americas, Marc Porter, said this is true, but said that by and large with Gagosian artists, "their place in art history is assured. He's not taking on the most speculative." Mr. Porter said what's more striking to him this season is how international the market has gotten. "If there's a leitmotif of this market, it's that buyers are appearing from all over the world, and it's dramatic."
That hasn't been good news for art dealers without the international networks. "What has really changed" in the past few years in the art world "is the old-style flipping of pictures–buying in Paris and sending it to London" or New York, and profiting on the price differential, said Mr. Jordan. "Now my friends who are dealers struggle at art fairs when buyers hold up their iPads and say, 'You bought it for this there, and I'll give you 5 percent more.'"
apeers@observer.com