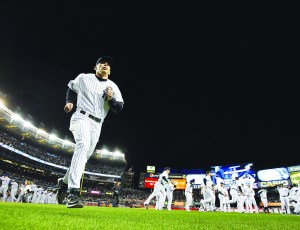 Last Wednesday afternoon, with a sunny sky smiling down upon Yankee Stadium, Joe Girardi stood in a navy pullover behind a protective screen near third base.
On the mound, tattooed fireballer A.J. Burnett was trying to chip away the rust of a long layoff and somehow salvage an unimpressive season.
Things were not going well.
Burnett had already hit two batters–two of his own teammates, this being a simulated game–and sent a wild pitch back to the net.
VIEW SIDEBAR > A GIRARDI TIMELINE
Behind the screen, Girardi spat. He put his hands on his hips. He crossed his arms. And, as if to focus, he dropped into a catcher's crouch.
For Girardi, whether to rely on the struggling Burnett–and risk putting the team in a 3-1 hole to the upstart Texas Rangers–would become one of the more dramatic decisions of what has been a mostly undramatic tenure.
OVER THE COURSE of three years, despite twice-daily meetings with the press, Girardi has somehow remained a minor character, directing an ensemble cast of big personalities–without inspiring the adoration or frustration of his predecessors.
Year One was a non-starter, with a lineup at once too young and too old, and without the starting pitching capable of pulling the team into the playoffs. In his second year, a revamped roster seemed to coast to a World Series on a surfeit of talent, some of which was finally playing up to its potential. It was the kind of efficient, unspectacular act of managing that seemed fitting in Mayor Bloomberg's well-ordered city.
And it was capped with a triumphant cream pie–delivered to Girardi's cheek by Burnett.
SHORTLY AFTER BEING traded to the Yankees in the winter of 1995, Joe Girardi changed the greeting on his home answering machine to Frank Sinatra's New York, New York.
Girardi grew up in Peoria, Ill., and graduated with an engineering degree from Northwestern, before rising to the big leagues with the hometown Cubs. The Colorado Rockies plucked him in the 1992 expansion draft.
Girardi was excited to don the pinstripes. And he was excited about New York, where he could take his wife to Broadway shows.
"As a player, you like to sometimes get away and be able to hide and sometimes in the smaller cities it's harder to do that," Girardi told Yankees Magazine a few months after the trade. "But in New York, we'll just fit in as another Italian couple."
"I remember when he first came here as a catcher–very early in the season. I mean–you know what the clubhouse is like-just filled with writers and reporters, just jammed," recalled the longtime beat reporter Jack O'Connell, who had come to know Girardi during spring training. "He said, 'Is it like this every day?' And I said, 'Yeah, it's like this every day, Joe.'"
As a relatively quiet, defensive-minded catcher, Girardi wasn't exactly looked to by the tabloids for three-inch headlines. But he was replacing the popular, power-hitting catcher Mike Stanley, which made for at least a minor drama–until the fall, when Girardi hit a key triple off Braves' ace Greg Maddux in Game Six of the 1996 World Series, kick-starting the three-run inning that would clinch the Yankees' first championship since 1978.
Over time, he grew more comfortable with the press, occasionally opening up. He told The Times about he and his wife's struggle to conceive children (they would succeed a few months later), and, before taking over as manager, he would weep in front of a reporter when discussing his father's battle with Alzheimer's.
Girardi became one of Joe Torre's most reliable "soldiers," as Torre put it in his book The Yankee Years, and during spring training in 1999, Torre asked him to deliver the news to teammates that the manager was fighting cancer.
And Girardi did his best to learn from Torre, a manager who preached a mutual trust with his players, and who hired Girardi as his bench coach in 2005.
All of which was supposed to help Girardi when Yankees brass chose him–over the Yankee legend Don Mattingly–to replace Torre in 2007.
But his first press conference did not go well. He quarreled with the media over some minor points and generally failed to live up to Torre's deft handling of the rabid New York press.
"Look at the act he had to follow!" said Daily News' columnist, Mike Lupica, standing in the stadium press box last week. "The other guy"–Torre–"nobody's ever going to be the other guy. Just the show he put on every afternoon with the media, there's never been anything like it in the history of anything. And every day, he would sit there–"
"He was ready for us," said O'Connell. "On a slow day, he had a Gibson story, or a Spahn story, some kind of story."