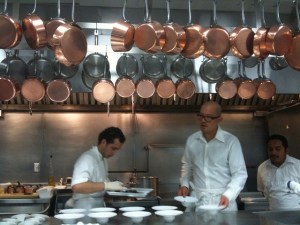 A bougie bodega, mind you, but one still located just a block off the dingy, gentrification-defiant Fulton Mall in downtown Brooklyn.
Brooklyn Fare opened a year-and-a-half ago in the base of 200 Schermerhorn, a luxury rental facilitated by the area's rezoning, and remains the only real option for proper groceries within the rising neighborhood. It's also said to serve the best meal — a $135 10-course tasting — in the borough. That's according to the Michelin Guide, which yesterday named the Chef's Table at Brooklyn Fare — basically an 18-seat counter inside the grocery — a two-star restaurant. It is one of the most coveted awards in all of fine dining, and the first time Brooklyn, the "fourth largest city in the country," has been so honored. The only thing better would have been three stars.
Chef's Table, which is led by César Ramirez, a graduate of chef David Bouley's empire [see correction below], joins nine other restaurants on the two-star circuit, beating out thousands of others in a city many consider the cuisine capital of the world. And yet the Times' esteemed critics have yet to review the place. (Will they have to now? Or will they never, as it would be too obvious and anticipated?)
Eater had an interview with Jean-Luc Naret, the directeur of Michelin, who couldn't heap enough praise on the Table:
Also you have the first two-star restaurant – Chef Table at Brooklyn Fare – in Brooklyn?
Well, when you say "worth the detour" that's really what it means. It means, "Cross the bridge and go there guys." It is one of the top restaurants in the world and it deserves attention. It's a dream come true and my best experience throughout this entire process. Have you been there?

I haven't.
You should make your reservation now before it's impossible.
Reservations have actually been impossible for a while, but now we may have an El Bulli on our hands. There goes the neighborhood.
If this weren't proof enough of the ascendancy of the Brooklyn restaurant scene, there's a new cookbook out with recipe's from 36 of the borough's most celebrated chefs. Things are so good, in fact, that a pair of Brooklynites are opening up a gastropub in the West Village called the Brooklyneer. It's stocked solely with victuals and libations from what, it must now be said, is the city's greatest culinary borough.
UPDATE: An email from the man himself:
hi Matt, this is cesar from (THE BODEGA YOU CALL BROOKLYN FARE, I NEVER WALKED INTO A BODEGA AND SAW A MILLION DOLLAR KITCHEN) you got where i used work wrong, I worked for David Bouley not Daniel Bouloud !!!! just correction !!