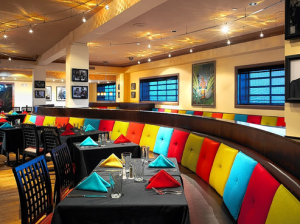 The Wall Street Journal has had not one but two beautiful articles about the Midwestern flash crash super-villains in the last 24 hours. The first, by E.S. Browning and Jenny Strasburg, digs into the gentlemen behind the $27 billion Asset Strategy Fund at Waddell & Reed, who've been fingered as the mysterious culprits behind the May 6 crash. The second, by Ms. Strasburg and Jeannette Neumann, describes where the fund's head trader was during the crash: the Drum Room eatery of a hotel called the Hilton President Hotel in Kansas City.
The first slightly-terrifying thing you'll learn about Waddell & Reed, whose whoppingly gargantuan sale of $4.1 billion worth of futures contracts sent the tipsy market into utter chaos, is that the fund has made similar trades "again after May 6," and "dozens of times in the previous three years." The Journal got that tidbit from the fund's lead manager, Michael Avery, who was willing to speak in advance of the SEC's report on the crash, back before he knew his firm would become the center of attention. But he and his colleagues, like his 35-year-old co-manager Ryan Caldwell, chief executive Henry Herrmann and derivative chief Tim Dykman, were apparently not willing to speak to the reporters afterward.
But what, exactly, is his Asset Strategy outfit? Merely a mutual fund! Except that it's not. It looks and smells like a hedge fund, and acts like one, only its bigger than most of them. And its "part of a rapidly growing breed of U.S. mutual funds that can trade in almost anything they want," says the paper. What's more, Mr. Avery said, on May 6 his fund simply did what it "was designed to do." Commodity Futures Trading Commission head Gary Gensler called it driving on "autopilot into a ravine." The fund, incidentally, did not lose all that much money itself, despite the panic it stirred.
Not that Waddell & Reed's allies agree that it was responsible. "I don't think any of these guys were involved really in the flash crash," an investor, Dave Koch, said.
Then there's the Drum Room, the restaurant in Missouri's historic President Hotel, where the Kansas City Securities Association was holding a fundraiser for 150 people on May 6. As the sell-off started, the guests, including Waddell & Reed head trader Jeff Albright, were enjoying cocktails and lunch. According to an online menu, food options include baked herb ricotta, roast pumpkin bisque, a prime steak burger, bison short rib and a slider called the lobster "knuckle sandwich." A securities lawyer named David Franasiak was speaking on regulatory oversight of the equities markets–irony of ironies!–as the audience started to go haywire.
"I thought," he said, "I was bombing as a speaker."
Related: 10 Mini Flash-Crash Stocks