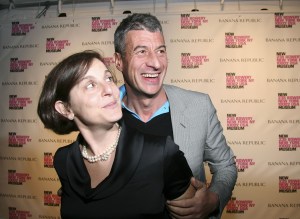 The return to the Museum of Modern Art of Laura Hoptman is a triumphant homecoming and something of a shock to the art world. She begins her job as a curator in the Department of Painting and Sculpture Nov. 1, nearly a decade after her original departure. Ms. Hoptman, 48, has come under fire in the past for promoting artwork by her friends, but she also has a reputation among some as a canary in the coal mine of contemporary art. That's why the usually trend-shy institution says it is bringing her back: So she can spot stars before they become famous, or too expensive to acquire.
"Not that many people," said Ann Temkin, the museum's chief curator of painting and sculpture, "can be buying art at the present moment that 10, 20 or 50 years later turns out to have been exactly the right thing to buy." She called Ms. Hoptman's acquisitions record "marvelous."
"I have had a reputation as kind of a picker," Ms. Hoptman said, "but that's less interesting to me than being able to put together shows that are interesting and relevant to a larger audience."
Ms. Hoptman served an assistant curator in MoMA's Department of Drawings from 1995 to 2001. She went on to run the contemporary art department at the Carnegie Museum of Art in Pittsburgh, where she organized the 2004-2005 Carnegie International. (Ms. Hoptman credits the massive contemporary art survey–and the three years she spent traveling to prepare for it–for her international perspective.) She is now leaving her job as a senior curator at the New Museum. There, she curated "Brion Gysin: Dream Machine," among other shows.
The curator initially made her name contributing to MoMA's "Projects" series, exhibitions organized by associate curators spotlighting individual emerging artists. Some of her choices, including the figurative painters John Currin, Elizabeth Peyton and Luc Tuymans, were gutsy for the time, and each of those artists would go on to art-world superstardom. All of them were in their 30s at this point, and far from unknown within the art world, of course. Indeed, one critic of Ms. Hoptman noted that she had more of a talent for spotting a good scene than for spotting good art. But, as Ms. Temkin said, "To be able to select artists who are on the cusp of being recognized as really major figures is a difficult thing to do."
Ms. Hoptman's role in "Projects" also stirred colleagues and art professionals to question her tendency to promote work by her friends, such as Ms. Peyton and Mr. Tuymans. These criticisms followed her to the New Museum, where she mounted a retrospective by Ms. Peyton–who was admittedly, by then, internationally known–and featured work by friend Jeremy Deller. Both artists also show at Gavin Brown Enterprises, where Ms. Hoptman's husband, painter Verne Dawson, also shows, a relationship that did not go unnoticed.
In artist William Powhida's infamous cartoon in the Brooklyn Rail, "How the New Museum Committed Suicide with Banality," Mr. Dawson is caricatured, saying, "Gavin really believes in my art. It has nothing to do with my wife being a curator at the New Museum." Mr. Powhida told The Observer he drew the cartoon to stress "just how closely connected the art world seems to be."
To be specific, Ms. Hoptman has been professionally linked one way or another to 10 of the 29 artists currently represented by Gavin Brown gallery. A 2002-2003 drawing show she curated at MoMA included work by Franz Ackermann, Ms. Peyton and Laura Owens, all of whom had been shown by Brown. The 2004-2005 Carnegie International, which she organized, included work by Nick Relph, Oliver Payne and Peter Doig, all of whom were and are represented by Brown. Two of the five "Projects" shows she curated at MoMA included artists now represented by the gallery (Rirkrit Tiravanija and Ms. Peyton). Four Gavin Brown artists–Urs Fischer, Jeremy Deller, Steven Shearer and Ms. Peyton–were shown at the New Museum while she was curator, although she only curated two of those shows.
Professor Steven Dubin, a professor of arts administration at Columbia University, who stressed that he doesn't know Ms. Hoptman, said, "It seems to me that a professional in any field doesn't want there to be even a whiff of suspicion… It's hard for me to imagine that there would be multiple opportunities to show the same person over and over again. When someone has an established name, like Elizabeth Peyton, it's not that they're wanting for places to show."
"It's not a question of bias," said Lynn Zelevansky, the director of Carnegie Museum of Art, who calls herself one of Ms. Hoptman's closest friends. "It's a superficial reading of who she is and what she's done. These are the people Laura came up with. These people were her crowd as she was developing. She is in no way limited by that."
Ms. Hoptman acknowledged that friendships inevitably evolve between curators and artists if they work together frequently. She maintained, however, that her passion for many of her friends' work preceded any professional association. "Elizabeth Peyton was my friend when I was a student–and not girlfriends, I was her friend because I liked her work," she said. "We didn't go out shopping. I challenge anyone in contemporary art to say that Elizabeth Peyton or Jeremy Deller are not worth being looked at seriously on the merits of their art, whether they show at Gavin Brown or John Brown."
Robert Storr, former chief curator of painting and sculpture at MoMA, worked with Ms. Hoptman during her first stint at the museum and said he stood behind her selections for the "Projects" series. (A MoMA colleague had reported her for conflicts of interest.) "The notion that critics and curators should not be familiar with artists is absurd, and if strictly applied, counterproductive," he said in an email. "What you must not do is favor artists because they are friends. Only the logic of ones' choices, the logic of one's writing reveals that, and often only over time."
A curator of a rival institution said that Ms. Hoptman's hiring is bound to create some stress in the ranks at MoMA, if only because, under director Glenn Lowry, the fiefdoms of individual curators aren't as clearly delineated as in the past, or as they are at some other museums, plus it appears she'll have more say in what is purchased.
"I think she adds a kind of gravitas, a kind of seriousness," said Ms. Zelevansky. "Not that people like Ann Temkin and Kathy Halbreich are not serious, but they are not contemporary people in the same way as Laura is. She's always up on the most current stuff."
When asked to articulate the differences between MoMA and the New Museum, Ms. Hoptman stressed the role of acquisitions. "The Museum of Modern Art is a collecting institution as well as an exhibiting institution." She also called her new position "a dream." "MoMA is the greatest collection of Modern art in the world, and in my opinion, the greatest museum in the world."
editorial@observer.com