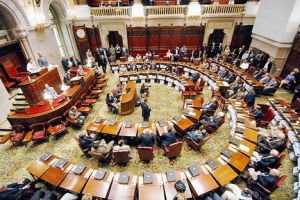 For Democrats in New York, November 2008 was an especially hopeful time. Barack Obama was sworn in as President. House and Senate majorities increased. And locally, for the first time in 40 years Democrats were going to be in charge in the state Senate, ushering in a new era of progressive change and clean government.
Err, not. In fact, Democratic control of the upper house in Albany has brought a steady stream of bad news, beginning with even before Democrats took control of the body.
The elections next week will decide if Democrats increase their narrow 32-30 majority, or if the chamber reverts back to Republican rule. In the meantime, we offer a look back.